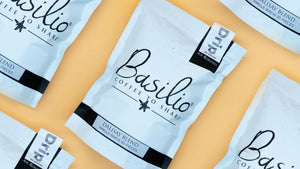 Basilio Coffee Drip 30
Sale price Price ₱895.00 Regular price
Contains 30 pcs Single Brew

DALISAY
100% Pure Arabica with two different roast profiles sourced from two different communities. Best consumed black to appreciate flavors and aroma. All Coffees are roasted upon receipt of order.

TINATANGI
60% Arabica, 30% Robusta, 10% Exelsa
Perfect blend of flavors from 3 different varieties with a slight kick. Can be consumed black or with creamer and sugar.

MUNI MUNI
90% Robusta, 10% Arabica.
Definitely a cup with caffeine rush. Best consumed with creamer and sugar.

BUNDLE
10 pcs Dalisay 10 pcs Tinatangi 10 pcs Muni muni

Basilio coffee beans have been carefully processed, and precision "Air Roasted" to bring out the desired and inherent coffee flavors and aroma. Basilio is fair trade coffee grown and produced by Filipino farmers all over the Philippines.We empower the coffee farmers to process and Air roast their own coffee.Farmers now can proudly drink and sell their own coffee in local communities. Basilio is the culmination of the Filipino passion and commitment for empowered coffee farmers, product quality, sustainable communities, shared wealth and love for the country. Basilio is Philippine coffee to share.